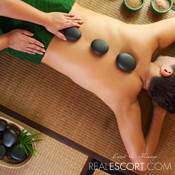 Heated smooth, flat, stones are placed on specific parts of your body, and soothingly massaged on your skin.
The stones are usually made of basalt, a type of volcanic rock that retains heat.
The heat from the stones leads to deep relaxation and to warming up of the tight muscles enabling the therapist to work more deeply and more quickly.

Benefits of Hot Stone Massage:

Relieve muscle spasm, pain, tension and improve muscle relaxation.
Improves skin appearance.
Reduce stress & anxiety.
Improves blood circulation and energy flow.
Helps you to sleep better.
Helps in increasing joint flexibility.
Will create a sense of comfort and warmth.